School of Business &
Entrepreneurship
In this video Mirian Fonkam, Computer Science Major, highlights "Nature-based solutions for food and human health", as part of the Global Youth Video Competition, in her quest to be showcased at the UN Secretary General's Climate Summit in New York in September 2019.

Key information

Study mode: Full-time
Course duration: 4 years
The School of Business & Entrepreneurship (SBE) is at the core of AUN's Development University mission. At the SBE, "Development" means a commitment to help communities achieve equitable and sustainable prosperity for all. The broad-based academic programs and research in SBE generate knowledge and innovation transferrable to the local communities for growth and development in such areas as financial literacy and entrepreneurship culture. Our experienced faculty mentor students from across academic disciplines to develop entrepreneurship zeal and nurture them through the knowledge loop, from concept ideation to consolidation and expansion.
AUN is the right place to pursue your higher education
The School of Business & Entrepreneurship offers highly specialized and industry-relevant degree programs at bachelors, master and doctoral level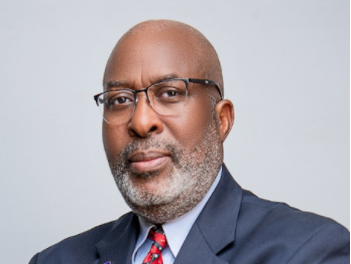 Welcome to the School of Business and Entrepreneurship (SBE) at the American University of Nigeria.
View Profile
Welcome to the School of Business and Entrepreneurship (SBE) at the American University of Nigeria. Our team of dedicated faculty and staff is committed to providing our students with the finest educational experience and best possible placement opportunities. The faculty and staff of SBE are amazing.
They worked hard to accommodate our students who are at the core of everything we do here at SBE. I am proud of every member of the SBE family for their positive attitudes and willingness to go the extra mile for our students.
SBE offers a comprehensive business curriculum with four undergraduate majors, which includes Accounting, Finance, Marketing, and Entrepreneurship/Management.
At the post-graduate level, SBE offers a Post Graduate Diploma in Management (PGDM), Master of Business Administration (MBA), Master of Sciences (MSc), and the doctoral (Ph.D.) in Business.
All our programs are fully accredited by NUC, and SBE is a member of the Graduate Business School Network (GBSM), a global organization devoted to the advancement of business education and entrepreneurship.
Our programs are designed to help students develop marketable skills based on deep understanding and involvement in the world around them. Entrepreneurial opportunities abound within and outside our immediate region, provide students with the opportunity to create successful business ventures through business plan competitions.
Our unique entrepreneurship programs help SBE students establish themselves as business professionals even before they graduate.
Through our study abroad programs, we partner with several institutions in the USA and Europe, to offer interested students a transformational international experience while attending AUN. These experiences are particularly important in helping students establish a global business mindset that is critical for an emerging economy that is integrally linked to the wider world.
Our shared mission is to help students become ethical business professionals who have a positive impact on their organizations as well as society. We focus on developing responsible leaders with entrepreneurial mindsets who challenge conventional thinking, seize new opportunities, and make a difference in the business world and beyond
. Our students are at the core of everything we do at the School of Business and Entrepreneurship. That's why undergraduate, graduate, and working professionals who want to be successful business leaders choose AUN, the Development University.
No matter your stage in life, I am confident we have an exceptional educational experience for you. If you're already in business, contact us and learn about how we can work together. If you're a prospective student, join us. We're committed to your success.
Leo U. Ukpong, PhD
Dean & Professor of Financial Economics
School of Business & Entrepreneurship
American University of Nigeria
Bachelor degree programs on offer provide each student the opportunity to specialize in a specific area:
The Flagship B.Sc. Business Administration program allows students to concentrate in any Management, Finance, Marketing, Management Information Systems/Supply Chain & Logistics, Big Data Analytics, & Fintech & Block Chains. Graduates of the School of Business and Entrepreneurship have gone on to pursue careers in auditing, business development, marketing management, public service administration, non-profit administration, commercial and investment banking, central banking, treasury management, academia, etc. The majority of SBE graduates have furthered their education to masters and doctoral level.
All Business and Entrepreneurship programs are accredited by the National Universities Commission (NUC). In addition, our programs aspire to pursue international accreditations.
SBE's graduate school, through its numerous practitioner-partnerships, offers specialized industry-focused degree programs in business administration.
Programs on offer include:
SBE's Ph.D. in Business Administration offers prospective doctoral candidates the opportunity to focus their research within a broad range of business sub-disciplines while encouraging interdisciplinary research. Current supervision expertise cuts broadly across international business, strategic management, public administration, marketing, accounting, corporate social responsibility, finance, entrepreneurship, research methodology etc.