The Writing Center organized a two-day workshop for all students of the AUN Academy on ethical use of resources.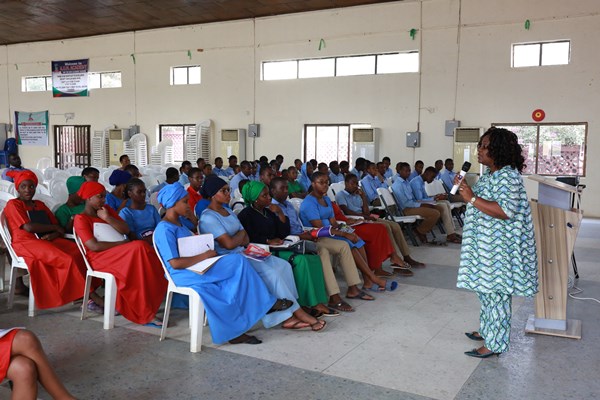 The workshop, which took place at the Academy premises, is in preparation for the yearly essay competition of the Writing Center.
Interim Director of the Center, Ms. Emilienne Akpan, observed that the interactive seminar was to introduce the students early to the appropriate ways of using resources before they reach matriculation.
This was also to guide them in their holiday assignments so that they understand how to use materials from the Internet or other sources.
To the students, she stressed the need to avoid plagiarism whenever they write and to have open minds as they learn how to paraphrase, summarize, and use quotations at their respective levels.
"Many people have lost their degrees due to plagiarism. They became a shame to their family and country. We want you to learn how to be confident in your work."
Ms. Akpan assigned the senior students the task to produce a poster for the Writing Center Spring 2018 Academic Integrity Campaign. There were also hands-on activities on summarizing and paraphrasing after the presentations by Writing Center staff members.
Curricular Literacy Advisor, Ms. Chinyelu Uzodinma, facilitated the junior secondary session, which was held on January 30. The Center Coordinator, Nicholas Achoda, led the presentation for the senior secondary students on January 31.
Each presenter explained the gravity of plagiarism and covered the different types, the consequences, and how to avoid this breach of academic integrity.
Plagiarism, they stressed, is cheating, unethical and regressive. They maintained that since it is a vice that they are now aware of, ignorance cannot be an excuse when someone commits the offence. At AUN, the consequences for plagiarism are very unpleasant.


Reported by Omorogbe Omorogiuwa