On October 18, AUN joined 68 other institutions across the world in marking the second International Day of Action Against Contract Cheating.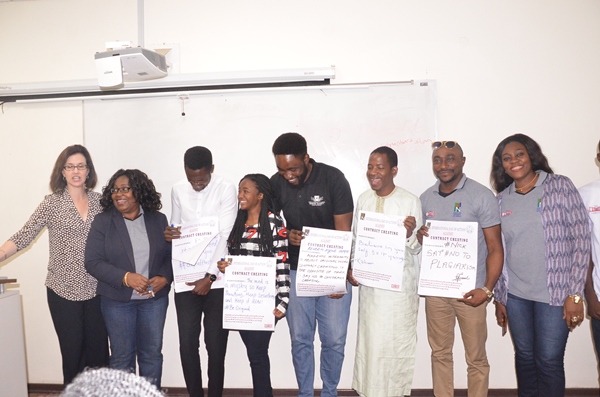 This is an initiative of the International Center for Academic Integrity (ICAI). AUN is the first Nigerian member.
The awareness campaign encouraged all stakeholders to speak up against contract cheating.  AUN was the only African university to participate in this international event, and on campus, related activities were organized by Judicial Affairs Office and the Writing Center.
Staff, students, and faculty made declarations on whiteboards against breach of integrity.  Integrity is one of AUN's core values, and against a global concern of people increasingly wanting shortcuts to achievement, upholding the principle is stronger than ever.
The Writing Center staff and tutors as well as those of the Judicial Affairs Office participated in the campaign.
Addressing a class, Peter Paya, liaison officer in the Office of Judicial Affairs, said, "It is academic dishonesty when a third party does your work… At the end you get undue credit that you are unable to defend…  We are out today to say no to contract-cheating."
Coordinator of the Writing Center, Nicholas Achoda, added that the campaign would encourage students to emulate honesty and responsibility – and both do not encourage plagiarism.
Director of the Writing Center, Ms. Emilienne Akpan, said academic integrity goes beyond plagiarism.  "They have to be honest in everything and not just in written work because, at some point, they will leave this place and should carry with them those positive values which they have imbibed.  These will ultimately distinguish them from the crowd."
Ms. Akpan encouraged students to seek help whenever they need it, as there is always someone to attend to their needs.  She added that the Writing Center is one of the available support centers at AUN that works closely with students to ensure that they not only produce original works but also ethically attribute sources.
The hashtags for the global event were #defeatthecheat and #excelwithintegrity, and below are some of the declarations from the AUN Community:
· Believe in yourself…  No need for contract cheating - Mirian Fonkam
· Beat the cheat.  Face the heat.  Achieve the feat and be academically neat - Nick Achoda
· 'A' is just a grade, and its joy lasts just a semester.  However, hard work leads to better grades and a lifetime of success - Grace Shom
· The greatest need of humanity is integrity.  Therefore, strive for it until eternity - Exploits Nicholas
· There is no story, not even a rumor of a successful contract cheat.  Avoid it - Chidera Nweke
· The mind is a mystery.  So keep thinking, keep searching, and keep it REAL!  Be original - Winifred
· Cheating deprives you of the fact that you are smart and brilliant - Taslim Oladoja
· It is not your success if he helped you!  Say no to contract cheating - Samuel Hansen
· Your academic integrity will speak for you in the future.  Stay honest!  - Vanessa W.
· Cheating is actually harder than studying.  Make the RIGHT choice - Precious Egeonu
By Omorogbe Omorogiuwa