On February 15, the Writing Center (WC) again hosted students of the AUN Academy (Secondary).  The second visit is part of the ongoing WC collaboration with the Academy, which began two weeks ago with the SS3 students' visit.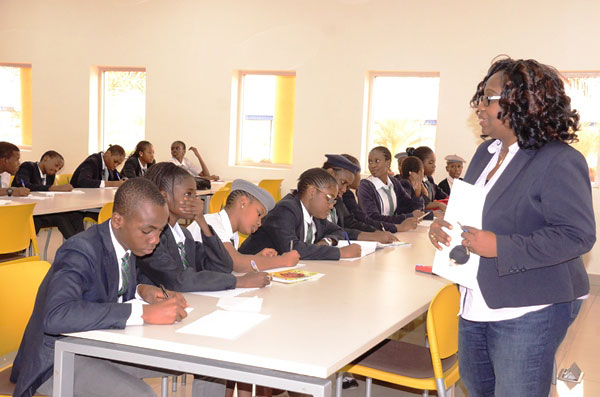 Aligning the presentation with the essay-writing content of their English Language syllabus, the facilitator, Mr. Nicholas Achoda of the Writing Center, took them through the features and processes of descriptive writing.  He explained that in order to effectively depict a scenario, a descriptive writer appeals extensively to the five senses of the reader. He demonstrated this with practical, engaging activities to give the students an in-depth understanding of the concept.  One of these was grouping the students in teams, blindfolding the leader, and giving him or her objects to feel and describe to the teammates.
"The essence of the activity," Mr. Achoda explained, "is to enable the students use their imaginative and creative abilities to mentally paint pictures for their readers."
In addition, the students were asked to choose from a variety of familiar topics and write a descriptive essay. While some wrote about their school, others wrote about their best friends, hobby, favorite sport, choice food, or preferred place to visit.
Ms. Emilienne Akpan, the Center's Director, stated that as is customary after every written task, the Writing Center would grade the students' submissions and award prizes to the best three.
Mr. Odama Gabriel Ogbaka, the English teacher who accompanied the students, said the presentation and hands-on activities would benefit his students.  He also noted that visits to the Center provide opportunities to not only reinforce what they learn at school, but also expose the students to the professionalism and expertise of the Writing Center.
When asked what stood out for her, Miss Fauziya Ibrahim said it was learning what descriptive writing is all about and "how to show and not tell," that she loves writing, and that her visit has motivated her to continue developing her writing skills.
Mu'azu Jaji said Mr. Achoda's instructional approaches were very helpful.  "I learned how to describe things better. I can now describe an orange to someone without actually mentioning that it is an orange."
By Omorogbe Omorogiuwa