Ph.D, Law, University of Dundee, Scotland

Assistant Professor of Law
Email: This email address is being protected from spambots. You need JavaScript enabled to view it.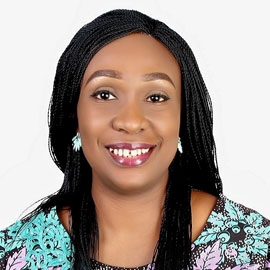 Erebi Ndoni is a dynamic legal professional with expertise cutting across the energy, international trade and dispute management sectors. She has a penchant for sustainable development especially in developing economies.

She started off her career in litigation with AG Partners, a Law firm in Port Harcourt, Nigeria. Her passion to impart knowledge led to her taking up a role to lecture Diploma Law students at the Bayelsa College of Arts and Science, Nigeria. She subsequently had a stint at Tax Consulting with Her Majesty's Revenue and Customs in Scotland. Thereafter she joined Century Energy Services Limited, an indigenous oil servicing company as the Company Secretary and Senior Legal Counsel. She was also worked as a consultant with HEE Energy Consulting.
Nigerian Legal System
Law of Torts
Professional Affiliations