PhD, Telecommunications, University of Bradford, UK;
MSc, Radio Frequency Communication Engineering, University of Bradford, UK;


Assistant Professor & Chair of Telecoms & Wireless Technologies
Email: This email address is being protected from spambots. You need JavaScript enabled to view it.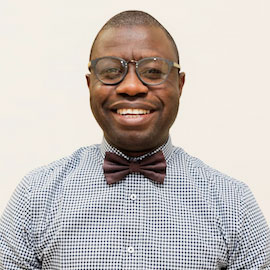 Abubakar Sadiq Hussaini, MSc, PhD; Head of Programmes/Director at Commonwealth ITU Group (CIG), actively participating in the ITU activities of the Radiocommunication, Telecommunication Standardization and the Telecommunication Development Sections.

He is Senior Researcher and project development manager with the 4TELL research group at Instituto de Telecomunicações, Aveiro, Portugal; Assistant Professor at American University of Nigeria (AUN); Visiting Researcher at University of Bradford, UK; Visiting Assistant Professor at Modibbo Adama University of Technology, Yola, Nigeria; He was Microwave Radio Transmission Operations & Maintenance Senior Engineer with Nigerian Telecommunication Limited (NITEL), Abuja, Nigeria. (10years); He was Senate Committee of the University of Bradford, UK; Has contributed to numerous publications and is involved in European and CELTIC research projects. Successfully attained several European projects, amongst the projects are MOBILIA (2009-2011), ARTEMOS (2011-2014) & THINGS2DO (2014-2018).

Has participated actively in events, conferences and seminars organized by the Information Society Technology (IST) research program, Institute of Electrical and Electronics Engineers (IEEE), Institute of Engineering and Technology (IET), and European Nano Electronics Forum. He participated in several annual European project reviews. His collective role is to defend the project objectives, and results to a panel of examiners that are considered European experts in their respective technical field. He served as a workshop organizer and a workshop chair. He is a TPC member and reviewer for many international conferences and journals. He is a guest editor for an IET Science, Measurement & Technology special issue.
RF and Microwave Systems Design
Satellite Communications
Fundamental of Wireless Communications
Mobile Communications
Broadcast Systems
Technical Report Writing
Senior Design Project
IT Project Management
Professional Affiliations