PhD, Universite de Caen, Caen France
Associate Professor, International & Comparative Politics
Email: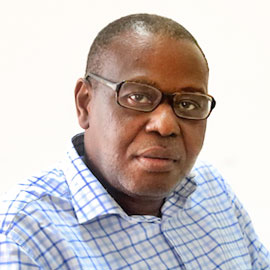 Dr. Mahamadou Lamine Sagna holds a Ph.D. in Sociology from the University of Caen – Normandy, in France and a Master's Degree in Business Administration from Ecole des 3A in Lyon, and Ethnic-Psychiatry from the University of Lyon II, also in France. His multidisciplinary background provides a thoroughness and fluidity as he addresses complex intersections between economics, gender, culture, and power—specifically how they relate to poverty, his personal field of interest. His interdisciplinary approach frequently enriches his pedagogy.
Before joining AUN, Dr. Sagna was a researcher at the Laboratory of Political and Social Changes (LSCP) at Paris VII – Diderot. His research focuses on poverty, social practices, art, and their relations to monetary and financial practices as well as their innovative dynamics in the social construction of trust. By studying these themes related to local practices and global visions, he intends to respond to the questions that challenge African development.
Dr. Sagna has taught courses in Economic Sociology and Social Anthropology, Political Science and International Relations in French and American universities. Prior to working at Université Paris Diderot for nine years, he taught at Princeton University in the departments of anthropology, African American Studies and African Studies
Dr. Sagna speaks four languages fluently (French, English, Mandingo, Wollof) and is competent in Spanish.
Professional Affiliations