M.A. (Mass Communication)
Visiting Instructor
Email:
This email address is being protected from spambots. You need JavaScript enabled to view it.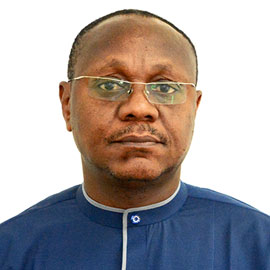 Ibanga Isine is one of Africa's best investigative journalists. A former senior editor with PREMIUM TIMES newspaper, now managing editor with NEXT EDITION newspaper in Lagos. Mr. Isine holds a Bachelor of Arts Degree in Communication Arts and a Master of Arts Degree in Mass Communication, respectively, from the University of Uyo, Akwa Ibom State. Mr. Isine also holds certificates from the Pan African University, Lagos and Thompson Foundation, in the UK, in Business and Economic Reporting and Advanced Reporting, respectively.
With extensive experience in print, broadcast and multimedia journalism, Mr. Isine has a keen instinct for investigations and special reports. He has worked for the Nigerian Television Authority, Channel 12, Uyo, and Punch Newspapers moving from correspondent to chief correspondent and bureau chief. He took on a government role as special assistant, media and administration to the Hon. Minister of Lands, Housing and Urban Development but returned to Leadership Newspapers in 2012, where he was appointed Group Editor Investigations and later served as pioneer editor to the new weekly 'Government.' He moved to GuardPost as editor in 2013 before joining Premium Times - Nigeria's most respected and authoritative newspaper as one of its senior editors. In June 2017, Mr. Isine and the Secretary General, Nigeria Guild of Editors, Victorial Ibanga, started The NEXT EDITION newspaper.

Apart from active journalism practice, Mr. Isine has been involved in building high calibre human capital especially in the field of journalism. He strongly believes in striking a convergence between the classroom and the newsroom. He was listed among the world's endangered journalists as far back as 2004. Mr. Isine was honoured at the Wole Soyinka Award for Investigative Journalism in 2014 and in 2015; he won the CNN Multichoice African Journalist Award in the News Impact Category. In July 2016, Mr. Isine was named the overall winner of the Humanitarian Reporting Awards of the Rotary Club International. Apart from his remarkable investigative skill, he has interviewed many influential persons including two sitting Nigerian Presidents - Goodluck Jonathan and Muhamadu Buhari during the Presidential Media Chats.

During the 2017 Summer holiday, Mr. Isine orgainsed a Clinic where over 250 journliasts in Akwa Ibom State were trained by Nigeria's best editors, including Azubuike Ishekwene, Anietie Usen, Taiwo Obe (TO), Dayo Aiyetan, Peter Nkanga of CPJ and a constitutional lawyer and Senior Advocate of Nigeria, Sebastian Hon, on emerging trends and challenges in journalism.
Specialised Reporting
News Writing and Reporting
Editorial and Creative Writing
Writing for the Mass Media
Online and Digitial Reporting
Principles of Journalism
News Editing and Production
Media Laws and Ethics.
Professional Affiliations