M.A., Mass Commmunications, University of Uyo
Certificat de Stage, Centre International d'Études Pédagogiques, Université d'Été, Nantes, France


Instructor of Languages/ Interim Director, Writing Center
Email:
This email address is being protected from spambots. You need JavaScript enabled to view it.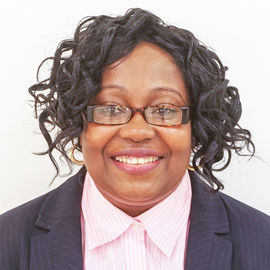 Before joining the American University of Nigeria, Emilienne was a Head of School for 6 years and held other teaching, administrative and leadership positions.
She is a disciplined person with personal benchmarks of performance, extremely passionate about what she does and very positive about where she works. She loves reading and writing, and has been published in a few collections. Her first personal collection titled Her African Face was published in Wales.
See:
http://muse.jhu.edu/login?type=summary&url=/journals/research_in_african_literatures/v039/39.1raji-oyelade.html
and
http://www.jstor.org/stable/20109567?seq=1#page_scan_tab_content
.
Emilienne currently directs affairs at the Writing Center, and is a member of two university committees. She has participated at various self-development workshops and also enjoys volunteering, traveling, and learning about different cultures. She is blessed with two beautiful daughters, El-Miracle and Faith-Emmanuela.
FRE 101
FRE 102
WRI 101
WRI 102
Professional Affiliations