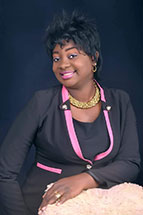 Enoh Obindu
Academic Advisor and Special Projects Coordinator
Enoh holds a B.A in Local Government and Development Studies; she graduated from Amadu Bello University, Zaria, 2011. She was a pioneer volunteer for AUN's first sustainable project known as Yola Ecosentials - a waste to wealth initiative, which has presently gained both national and international interest. Based on her experience and passion for crocheting with recycling, she helped coordinate the Guinness World Record breaking event for the Most People Crocheting Simultaneously, 2015. 

AUN gives her the confidence and skills to interact well with people of diverse backgrounds, as well as, her continuous drive towards community development.
Enoh is currently working towards a Master's of Public Administration, National Open University, Nigeria which will enhance her current knowledge base.


Enoh enjoys social gathering, singing and any activity geared towards human development.


---
Imaobong Alfa
Academic Advisor, SITC

Imaobong Alfa, an Academic advisor of the American University of Nigeria, holds a first degree in English and Literary studies and also obtained a Masters in Public & International Relations.

She provides support to students in partnership with faculty, which helps students make informed decisions and create the right goals through their academic pursuits.

She genuinely enjoy the pace and dynamic changes of every academic year. It is amazing to witness the anticipation of students and new professionals alike, as they navigate the transition to the university community and its culture. The intentional decisions of how to acclimate and support students into and through the university is at the heart of her practice. Imaobong is committed to helping students understand the importance of getting a high quality experience out of their education.

Her interests are travelling, chess play and attending social gatherings.
---
Shittu Ayodeji Shittu
Academic Advisor, SBE

Shittu Ayodeji Shittu fondly referred to as S.A.S is an Academic Advisor at AUN whose current primary role is to support the School of Business & Entrepreneurship students as they make their way through the four-year program.

 He is an alumnus of the University of Jos where he earned a Bachelor's degree in Microbiology. He also holds a Postgraduate Diploma in Education and a Master's degree in Public Administration. He is currently enrolled in a Ph.D. program at the American University of Nigeria and a member of the Institute of Strategic Management.

Mr. Shittu joined AUN in 2011 as a Youth Corps member (National Youth Service Corps) where he served as an Administrator with the Students in Free Enterprise (SIFE), Student Affairs department. After his National Service, he joined the AUN Academy, American Track, as an instructor where he was highly respected among his colleagues for his love for books and research. He is an adventure seeker, a traveler, and a very sociable person who is passionate about helping people.

Shittu aspires to become a professor and business consultant and his ultimate goal is to be one of the world's biggest philanthropist.
---
Chigbo Cosmas Izuchukwu
Administrative Assistant
He is the Administrative Assistant of the unit, fondly called IZU by his folks. He is an astute Engineer, from the Prestigious Enugu State University of Science and Technology (EUST) Enugu. He is a bridge builder, a lover of peace with so much passion for the younger generation. He is a member of Nigeria Institute of Management (NIM), an Academia. He is currently undergoing his Master's in engineering which will help broaden his knowledge base.
He is passionate about the success of students, aiding them from inception of admission through to graduation, to facilitate a timely successful completion of their baccalaureates. He had worked with Facility Management Division of AUN. His current task is to provide administrative and clerical support functions and assist the unit in every possible way to achieve a common goal.

At leisure time, he plays football.