Principal Media Technologist with the Communications & Multimedia Design program, Lawrence A. Onime, was nominated by the U.S. State Department to participate in the 2017 International Visitors Leadership Program (IVLP).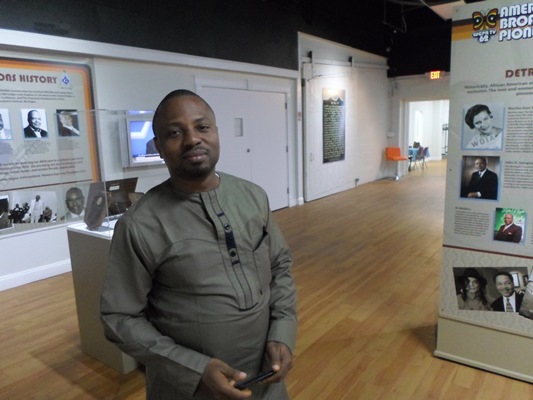 Here, Mr. Onime, a volunteer producer for Radio Gotel responsible for programs such as Greetings from America, shares his overseas experience.
Americans know that their country is often misperceived, so they give you an opportunity via exchange programs, where they try to showcase America to you and have you experience it firsthand, rather than rely on hearsay.
During this visit, eight radio producers from Nigeria were invited to the program. The idea behind the visit to America was to have a feel and a better understanding of the American people. This too was why we were treated to "Home Hospitality," whereby an American family hosts you for dinner.
My IVLP nomination by the Embassy is an experience I will live to remember.
Prior to traveling to the United States, a lot had been heard of this great country. Since seeing is believing, I made up my mind to get the very best of it all.
On arriving in America, we needed no soothsayer to tell us that we were in a very hospitable place, from those rendering services at the airport who were always available to help out, to the various attendants at various spots who wore warm, Mona Lisa smiles.
I saw the cheerfulness in everyone, even among the cleaners at the airport. Everyone seemed happy doing his or her job. My stay in America took me to three cities in three states: Washington DC, Detroit (Michigan), and Atlanta (Georgia).
One can compare Washington to Nigeria's Federal Capital, Abuja. The two states of Maryland and Virginia donated the land for the actualization of America's capital city, which was named after George Washington, America's first president. Washington, as has been said, has so many similarities with Abuja, since it has so many government and diplomatic offices.
In Detroit, which has a huge population of Arabs, we met with some Arab-Americans.  They opened up on how they are coping with residing in America.  They revealed that all is well except for the fact that 9/11 attacks changed Americans' perceptions about them.  They said they feel some form of segregation now--an aftermath of the terrorist attack.
Of all the places visited, I think two places that interest me the most were Voice of America (VOA) and the Martin Luther King, Jr. Memorial Visitor Center.
Any trained media man or woman would find visiting any media house outside his/her own to be a learning opportunity. My case was no different. The visit enabled me to understand how another media house works, especially one outside Nigeria.
The VOA visit made me realize that government/media owners do not have to always interfere with the news stories of media houses.  
What fascinated me most about VOA was the magnitude of work they do: having to write and present reports daily in many languages and the fact that the U.S. government owns and funds the broadcaster. They tell you freedom of speech is so freely expressed unlike in most African countries, where media owners dictate what virtually goes on air and most journalists are at the mercy of their employers rather than work by the ethics of journalism.
The visit to the Martin Luther King, Jr. Memorial Visitor Center in Atlanta was another that not only added color to the whole experience but also inspired me. Prior to going to the U.S., about the only thing I knew about Martin Luther King, Jr., was his "I Have a Dream" speech, but visiting his birthplace, his home, church, and neighborhood made me feel I was around when the man was alive. What also moved my fancy was the preservation of all his family belongings in their family home.
In receiving hundreds of visitors on a daily basis, the Martin Luther King, Jr. Memorial Visitor Center has a way of making you feel at home, feel nostalgic and be bitten by the MLK bug and inspired by the many works of the African American activist who had a dream for a better future.
In Atlanta, I also visited Morehouse College, Martin Luther King Jr.'s alma mater, where I met with some of his schoolmates who are now faculty members. Here, they told me he was not an "A" student, but he still was able to make an impact on his life and this makes his Morehouse School proud of him.  This really spurred me to always strive to be the best in whatever I do in order to be celebrated.
Memoirs by Lawrence Onime