Every member of the University has seen the trending t-shirt inscribed "Yola, Home of the American University of Nigeria."
The AUN Campus Store launched the branded shirts this semester.  Within weeks, they were snapped up. President Dekle, passionately committed to promoting AUN and the Yola Community, stopped by the Campus Store to check on the t-shirts and choose one for herself, while placing orders for more.
Senior Manager of Retail and Business Services, Tunde Animashaun, said the essence is building a good image of Yola as a reputable town hosting AUN.  "We identified the need to promote our host community and let the world know that a good thing is happening in Yola, Adamawa State, and that it is the host of the American University of Nigeria despite the negative media reports about the North East region."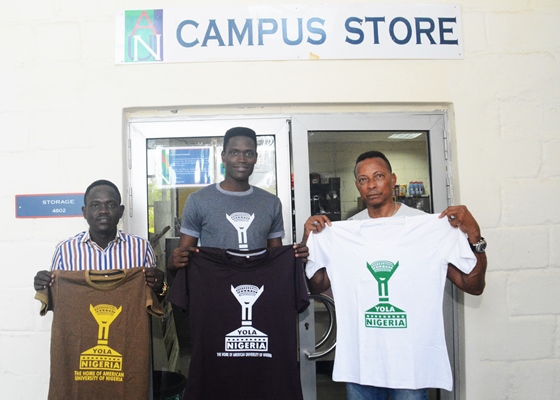 "People travel to cities around the world like Paris, London, New York, Dubai, Madrid and the like and come back with souvenirs indicating they visited such cities, so we feel we can do the same for Yola."
To say that the initiative will soon start to be recognized throughout the country might seem a fantasy.  However, on September 22, the Speaker of the Adamawa State House of Assembly, Hon. Kabiru Mijinyawa, bought 50 pieces as souvenirs for fellow speakers from 36 states of the Nigerian Federation who were on a visit to AUN.
The campus store's dream goes beyond the borders of Nigeria.  In the words of Mr. Animashaun, "Our aim is to get the t-shirts to travel around the world."
And every member of the University can contribute to the mission by buying and wearing one.  Imagine taking it home as a gift to your relative, friend, or fellow staff member.  You too will be contributing to building a strong AUN brand, as well as promoting Yola as a town that is home to an excellent university.
One day, AUN and Yola will become global brands.


By Omorogbe Omorogiuwa