Two journalists from The Wall Street Journal, an American daily of international renown, were guests at an intercultural communication class session on January 30.
Joe Parkinson, the Africa bureau chief, and Drew Hinshaw, a former West Africa correspondent for the New York-based newspaper, were invited by Dr. Presly Obukoadata, the course instructor.
"It is intercultural communication class. We are trying to understand and gain skills on how people can communicate across cultures without offending the other culture. Both Joe and Drew are persons from other cultural backgrounds who have spent some time extensively in Africa."
Besides traveling across different cultures, the journalists have interacted with persons from different cultural backgrounds. They shared insights on strategies and techniques they have used in surviving and getting information from locals.
Dr. Obukoadata said the shared experiences were very enriching for the students.
"These are the kinds of cultural shock we want to try and understand as it helps to make our world a peaceful place… That is what we are trying to help our students achieve. To acquire that kind of skill that helps them connect easily to other cultures."
Dr. Obukoadata applauded President Dekle for facilitating the coming of Joe and Drew, and for her interest in ensuring that the Communication & Multimedia Design program connects with globally accomplished minds.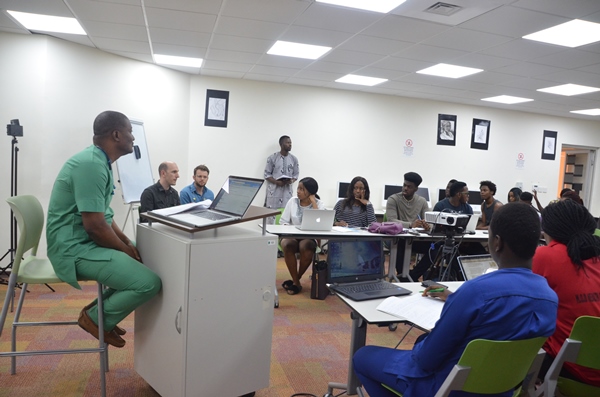 The class was curious to know why the journalists have some positive things to say about Nigeria against popular stereotypes and prejudices from outsiders.
"This is the kind of narrative we want to hear. Why is it possible for Joe to make this kind of comment? Probably because of his extended stay in places like this, so he is now connecting to the local culture here. He is beginning to understand the cultural nuances of the people."
Mr. Hinshaw seems to be experiencing a cultural dilemma over whether to go back home or remain abroad.
"That is one thing we talked about here in class," said the professor, "when we said people try to learn other cultures. There is a danger of getting involved in that culture and not coming out of it. And Drew gave us a practical example of it. He expressed a desire not to step out."
Besides a journalist having intellectual curiosity, Parkinson said, a journalist should be so humble that the locals become more comfortable with them enough to share information, not minding they are from a different cultural background.
"One of the key things is to be humble. Both of us feel a little bit embarrassed to be in your country trying to analyze what is happening as an outsider with nowhere close to the cultural nuances, sophistication, and experience that you have. If you are going to make them trust you, one of the best ways is to offer a bit of yourself - be humble."
Students learned from the journalists about their work. They are involved in investigative journalism. Parkinson said it is the hardest journalism to fund. "These longer stories, they require a lot of travels. It requires a lot of money, takes a lot of time."
One of the students, Joan Amanambu, said she enjoyed the guests' presentations for its insightfulness. Another, Hadiza Abdulkarim, said they opened their minds by sharing their experiences.


Reported by Omorogbe Omorogiuwa