"Research shows that the earlier a child is exposed to career mentoring, the better."
 Dr. Abdulfatai Salawu, a consultant physician/neurologist at Federal Medical Centre, Yola, made the above comment on January 31 at the Career Day organized by the AUN Academy (Elementary).
Dr. Salawu, one of the four presenters at the event, told the pupils that they do not have to be exceptionally brilliant to go into the medical field as long as they are prepared to work hard. While it is a lucrative career, passion should be the motivation, he cautioned.
"It is a profession that requires passion; without the passion, you won't enjoy the profession." He also advised them not to study medicine for monetary gains but the passion of it.
Mr. Idris Shehu who represented the Managing Director of Fidelity Bank, Dr. Musa Tarimbuka, spoke on the requirements to become a banker. "You start by being an executive trainee. You must have a good background in mathematics because it involves calculations."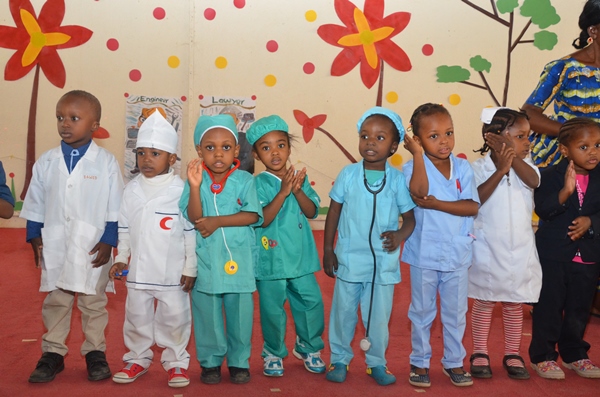 He also encouraged parents to start saving for their children by opening bank accounts for them.
Mrs. Suad Mbah, a nurse, spoke to the children on the nursing profession and on her journey to becoming a nurse. She said becoming a nurse is an opportunity to make a difference in people's lives, adding that her father encouraged her career aspiration.
"He said if you save 100 lives, then you are a heroine, but if you save hundreds and hundreds of lives, then you are a nurse. If you save someone's life, you save a family, and then you save a community."
An officer from the Federal Road Safety Commission, Mr. Anom, explained how one could get recruited into the organization.
Director of the school, Mrs. Elizabeth Raymond, said the program was organized to create awareness for the various professions at an early stage and make children understand the importance of education.
The children dressed up in attires befitting of various professionals. The event was spiced up with presentations by the different classes. They included songs, poems, a debate, and a talk show. Parents and guests were elated to hear their children do one performance or the other, many taking photos of their children. The event ended with a dance by the AUN Elementary Art group.


Reported by Celine Augustine