On January 22, the new executive committee of the AUN Community Cooperative Society visited President Dekle in her office.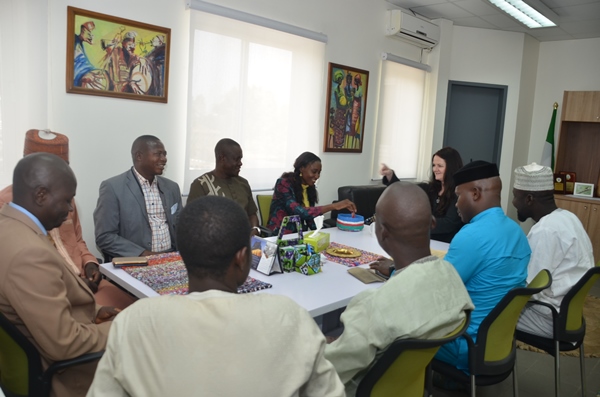 The seven-member team, led by the President Adamu Umar, also included the first two presidents of the organization, Boniface Sukat, and Abba Tahir.
Mr. Umar said the courtesy call on President Dekle was to apprise her of the existence of the Society formally.
President Dekle would learn that the Society, which started with less than 20 members in December 2010, has grown to an organization with membership strength of 800-plus.
Umar also shared some of the achievements of the Society. "We have secured housing land for distribution among our members. Repayment plans are soft and flexible; we have more plans to help members to acquire and build houses by themselves."
Mr. Umar also explained how the organization helps members and how the Society is diversifying its investments.
"We encourage our members to save; we advance soft loans to members with low interests. Gains on these activities are shared as dividends among members. The Cooperative Society is a hub for staff, for wealth creation."
Umar added that this benefit, which makes staff happy, ultimately translates to more productivity at work. "We feel we are very significant to the university because the Society reduces the often huge financial burden of the university's staff and faculty members."
Dr. Dekle also learned how the Society helps in the development mission of AUN, as Umar said since 2010 the Society had made four donations to the local community.
"That is why a certain percentage of our annual gains go to charity, the most recent one being the award of 150 scholarships to students in Yola."
President Dekle congratulated the new leadership of the society, and commented, "It is heartwarming to see what you are doing."


Reported by Omorogbe Omorogiuwa