On November 27, a team of military officers led by Brigadier-Gen. Kayode Ogundele from the Nigerian Defense Academy was on campus for a study tour.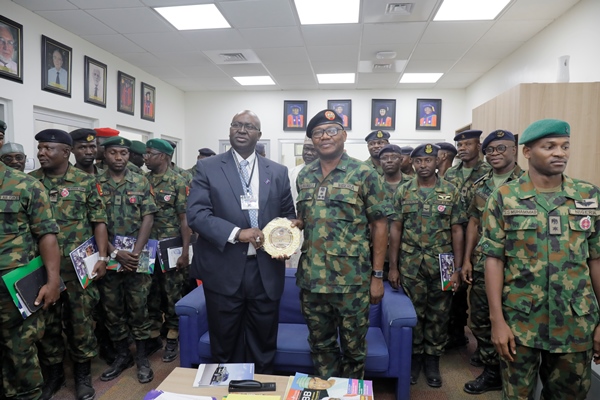 The officers, who just concluded their training at the defense college, are among the nine teams of officers to tour nine states including Adamawa State.
"Part of the college's curriculum includes tours around Africa and Nigeria. This particular team is Group one, and we are mainly on tour for national security and youth empowerment. We empower people economically and educationally," said Brigadier-Gen. Ogundele, who first visited Provost Muhammadou Kah with his team.
Ogundele added that they empower youths with skills and knowledge so that they can cope with challenges they face and fend for themselves.
Prof. Kah, who received the team on behalf of President Dekle, said he was happy to receive them. "I particularly thank the military for its effort in sustaining peace in Africa, especially in Darfur, South Sudan."
The Provost stressed the role of the military in creating values and discipline in the minds of the youths. He cited examples with some universities across the world where some facets of the military are parts of university ethics.
From the Provost's Office, the team took more tours of the campus. They also visited the school's library, lecture rooms, administrative offices, and other beautiful buildings on campus.
Reported by Nubwa Ibrahim