Assistant Professor in SITC Dr. Jean-Paul Cleron has demonstrated a simple but insightful System Dynamics model of the Nigerian Economy, depicting the feedback interrelationships between some key macro-economic variables that drive the economy.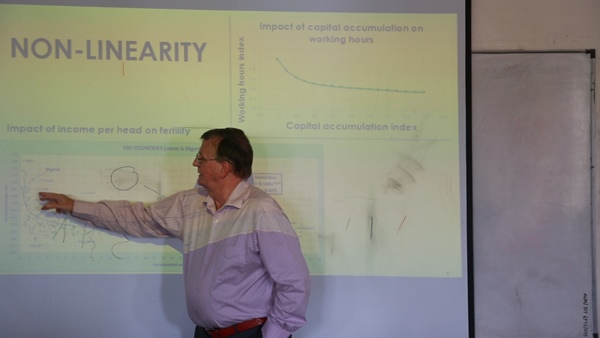 Using a computer simulation of his model he demonstrated that saving more and re-investing in the economy would have a far greater impact in advancing Africa's largest economy within 15 years. On the contrary doubling or even tripling the price of crude oil had very little impact over this same time period.
The highly-respected former World Bank consultant with an extensive knowledge on the inner workings of the Nigerian economy demonstrated his model at the SITC seminar on "System Dynamics and its Applications" on November 15.
Professor Cleron quoted from available statistics that showed that Nigeria has earned an average of $30 billion per year in oil revenue since 1980. In his opinion, only one year of average oil revenue could eliminate extreme poverty in the country.
He identified reinvestment in the economy as a critical element of development and economic growth, pointing out that Nigeria faces a lot of economic challenges today because no substantial reinvestment has replenished and developed its resources.
"As a result, the economy of Nigeria greatly lacks diversification. Electricity is key to development. But Nigeria is in the dark. We have 7,000 MW of capacity. South Africa has 45,000 MW and their population is less than a third of Nigeria's."
From 1960 to 1972, before the first large increase in crude oil prices, income per head was growing at almost 3 percent per year. But thereafter from 1973 the growth rate was less than 1 percent.
"And today, it is falling. It means that today, population accumulates faster than wealth."
Identifying unemployment as the country's major problem, Dr. Cléron  said about 55 percent of savings as opposed to an estimated 30 percent needs to be reinvested immediately in the economy in order to stabilize unemployment in the medium-long term future.
Introducing the Seminar Series and presenter, Dean Mathias Fonkam said System Dynamics specializes in the broader field of systems thinking which many are coming to embrace as an important complement to the scientific method as the limits of the scientific method become more and more apparent.   
Dr. Fonkam said he agrees with the founder of the system dynamics field, Jay Forrester, that the biggest challenge facing us today relates to management issues and especially people, and the soft factors that drive dynamics.
By Omorogbe Omorogiuwa