On October 17, the Student Government Association organized a tour of the new Administration Building on the Main Campus for Police Academy cadets from Kaduna.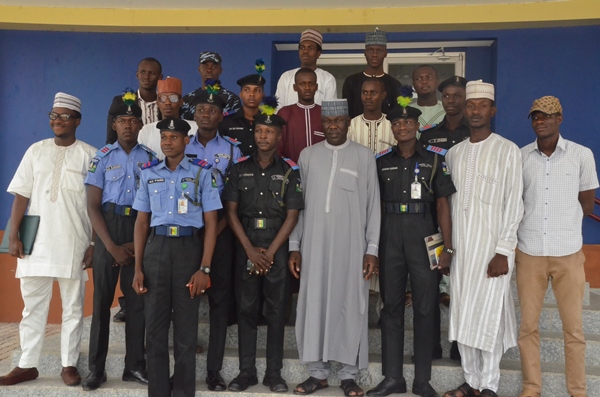 Mr. Abba Tahir who had received the guests kicked off the tour by giving them an insight of the motivation for the unique designs of the building:
"You are welcome to the American University of Nigeria.  This building is one of the administrative buildings and it is an eco-friendly building borne out of [shipping] containers.  This University focuses on entrepreneurship and development, so we decided to use that component to build structures that endorse such ideologies.  We challenged our facilities managers to create a structure out of containers that have been abandoned and this is the result."
One of the cadets said they were on a visit to Yola and could not depart without visiting the AUN campus.  The visitors paced through the length and breadth of the building.  They were given a taste of the recycling at its best as they noticed that materials within are made of recycled materials to promote environmental conservation.
They appeared to be even more curious when they arrived at the IT section, the Internet power hub at the University.  In particular, they were more fascinated at how competent the IT office was in providing Internet to every part of the campus.
From the Student Affairs, Project Management, IT, Communications/PR, and Judicial Affairs offices, staff members within the building warmly greeted the cadets.
At the end of the tour, the cadets expressed their gratitude and intention to foster a lasting relationship with AUN students and possibly staff.  One of the cadets, Salihu Hassan Gouda, Cadet General Course II expressed his delight:
"When we first came to Yola, one of the things we always wanted to do was to come to AUN because we heard it's a development university."
Concerning his experience within AUN, he remarked, "I am very impressed.  I wish I were here.  Instead of disposing of the container, you turned it into a building, which is an innovative idea."
Named after Dr. Jamila Abubakar, the second administrative building was commissioned in May 2017.  She is the founder of the Police Cadet Foundation.


By Ebiuwairo Uwagboe