Ink It! and Cyberia--two student-run business ventures on campus--formally kicked off on October 9.  Both have barely three months to succeed or show prospects of profitability.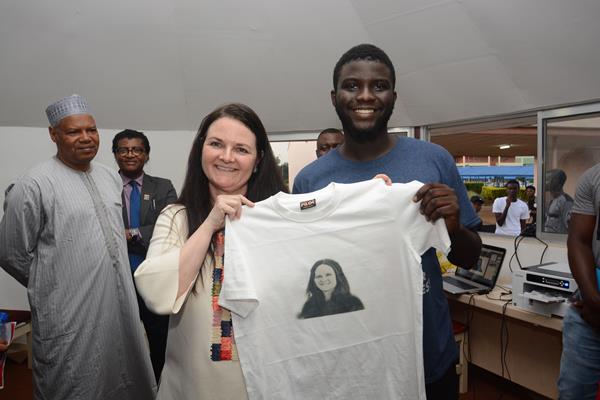 To raise awareness for these ventures, two managing student teams have used various platforms such as social media, word of mouth, and flyers to gain attention.  In addition, they operate round the clock, including weekends.

The businesses are supported by a $5,000 seed capital from AUN to facilitate their launch and progress.

President Dawn Dekle who witnessed the launch of the ventures was impressed.  She received a branded t-shirt as a souvenir from Ink It!

A professor in the School of Business & Entrepreneurship and one of the mentor-coordinators of the project, Dr. Ferdinand Che, said it is one of those initiatives of the school aimed at getting students to test their ideas on campus before going to the real world.

"They go through the entire process of ideation, evaluation, and forming those businesses, refining them, and eventually launching them as they do today (October 9), and they will run this for the rest of the semester."

Through the intervention, the students get to see how teamwork can create value for a company just as they learn soft skills in managing people and relating with customers.

Students of ENT 201 went through the process of idea generation and rigorous evaluation to produce a shortlist of five potential business opportunities.

Two business proposals--Ink It! and Cyberia--were voted as most viable out of five finalists.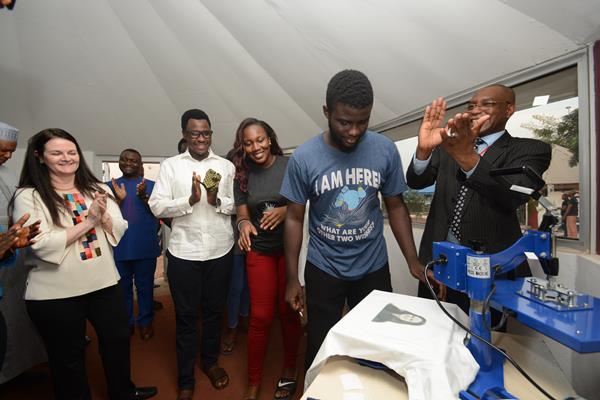 Ink It! is a unique venture that seeks to leverage perceived strong need or desire among students to identify with current and popular fashion, social, and cultural trends by providing a practical and fun way for students to channel their creativity.  Ink It! offers a range of customized merchandise such as shirts, hats, mugs, and even phone cases.

The second venture, Cyberia, emerged from a long-standing need for convenience, customer-friendly, and efficient printing services on campus over and above what is currently provided by the Copy Center.

The Entrepreneurship Field Experience course runs every semester and welcomes students from all schools.  Students of the course are expected to go on to start their own businesses, potentially leveraging on the campus experience.

By Omorogbe Omorogiuwa with Ebiuwairo Uwagboe (Graduate Intern)