The Student Government Association, on September 25, swore in 12 newly elected senators.
Dean of Students and Vice President, Student and Academic Services Byron Bullock said it is another opportunity for the students to grow and develop.

The dean challenged them to think about how they will serve not only their voters but also others who did not vote for them.  Carrying everybody along, he said, is important.

"Part of being in this position is relating to people from all different walks of life who are going to think differently, who have opinions and ideas that are different from yours."

He enjoined the senators to collaborate with one another.  "How many of you are going to step out of your comfort zone and go and set up a meeting with somebody who might be thinking differently than you?" he asked.

Oversight on the judicious management of the SGA budget is another aspect of the senators' responsibilities.  Dean Bullock asked them to reflect on what they need to be to earn the confidence of their electorate.


"Are you a person of accountability?  Can you be accountable for the resources that are provided to you?  ...The students have paid fees at this University and a portion of it is going to you to be responsible for, to plan activities.  Are you a person of integrity?"

It is not enough to vote leaders into official positions.  Dean Bullock tasked the students to hold them accountable.  

"We did not elect that leadership for you.  You elected that leadership for yourselves.  For those of you whose constituents are in the residence halls or live off campus, and who put these people in office, I encourage you to hold them accountable."

He envisaged that in their eight-month tenure, the senators would have acquired the negotiation, communication, and conflict resolution skills that can be very useful to them as leaders after graduating from college or for further involvement in other activities of student organizations.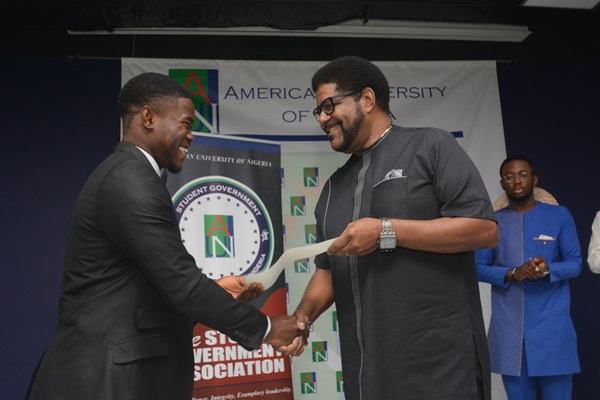 His hope is that they would be the kind of leaders that make a difference on the AUN campus and in the lives of students and in general, become the next generation of African leaders.

By Omorogbe Omorogiuwa