Prof. Jennifer A. Tyndall of the Natural and Environmental Science program has presented the findings of a comparative study of oral samples collected from the University community and internally displaced persons (IDPs).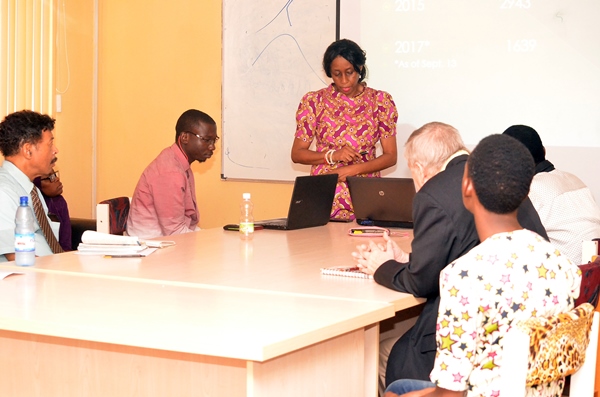 The research was on The Oral Health & Practices of Internally Displaced Persons in Northeastern Nigeria. The aim was to evaluate the impact of basic oral hygiene practices on oral health in adults in Adamawa State.
The study has Abdulrahman Mohammed Bappulo, former SGA president, Luqman Jimoh, from NES and Dr. Nasir Umar, from the London School of Tropical Medicine & Hygiene, as team members.
An Associate Professor in the NES Department, Dr. Tyndall has worked on several global health projects and has actively supported various community health projects such as the Breast Cancer Awareness Campaign.
As at September 13, 2017,the chosen camp in Fufore had a population of 1,639 persons who are mainly children, old people, and women, reported the lead researcher.
Microbial analysis of the oral samples collected and the data analysis of the knowledge, attitudes, and practices confirm that AUN community had better oral hygiene practices than IDPs, but not for mouth rinsing after eating sugary items.
Dr. Tyndall said the research confirms that IDPs are neglected and deprived due to the insurgency in northeastern Nigeria.
The research also revealed that extreme cases of tooth decay and gum disease still remain prevalent among the poor and particularly in the rural communities in developing countries.
Based on the results, there is need to increase sensitization and fundingfor oral health care and regular dental check-ups, opined the researchers.
For the study, language was a huge challenge as many of the IDPs who are from Borno, do not speak Hausa but Kanuri.
The respondent, Dr. Lynne Baker, also of NES, said it was interesting that the researchers were looking into an often neglected area of research.
Dr. Lucky Imade of the International and Comparative Politics program noted that the subjects were from an 'extreme socio-economic class'.  He suggested that besides the extremely high and low socio-economic classes, they should have considered middle class in addition.
Dr. Presly Obukoadata, chair of the Communications and Multimedia Design program, noted that it was interesting that more students were collaborating with their professors for research.


By Omorogbe Omorogiuwa