Attorneys-General and principal law officers from the States of the Federation, who attended a four-day summit at the AUN Hotel, took time to explore the seductive ambience of the main campus.
They toured the Commencement Hall, e-Library, the eco-friendly administrative buildings, and the School of Law (SoL) housed in the Peter Okocha Building.
Dean Oladejo Olowu received the visitors at SoL, where he addressed them on the uniqueness of the AUN Law program. 
The Dean told the nation's principal law officers that the National Universities Commission and the Council for Legal Education were very satisfied with the building, curriculum, and the faculty profile of SoL.  "In so many ways, we stand shoulders above our competitors, including those of first-generation universities."
Head of UNHCR for the Northeast region, Cesar Mbav Tshilombo, said the University is a commendable investment.  "All my children have studied abroad, but I don't see the difference between where my children went to study and AUN."
Head of Prosecution, Edo State Ministry of Justice, Charity Ebosele who recognized AUN as a beautiful campus, promised to personally promote the University.  "The environment is friendly; the buildings are beautiful.  In fact, it is a laudable
project.
State Program Officer of the UN Population Fund, Adamawa State, said the University stands out clearly from others.  "It is a standard we don't have in this country.  I am actually thrilled and very impressed with the University.  From the interactions, we learned that an AUN education is cost-effective; instead of sending your child abroad, why not bring them here?"
Component Manager of the Rule of Law and Anti-corruption program, British Council, Godwin Odo, commended the AUN founder for his vision.  He said the environment is very conducive for learning.  "...The standards here are world-class.  With all I have seen, I do not see why my kids will not come here and study.  Look at the lawns; look at the environment.  If you come here and you can't study, then something is really wrong."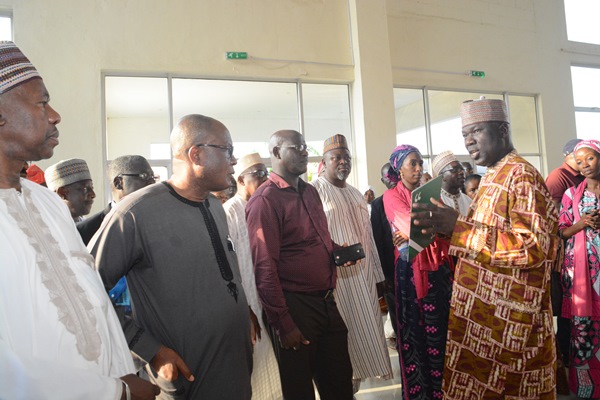 The visiting law officers were conducted round the campus by the Assistant Vice President for Public Affairs, Abba Tahir.


By Omorogbe Omorogiuwa