Board of Trustees member, Ike Chioke, inspected the ongoing hostel project on the main campus on September 9.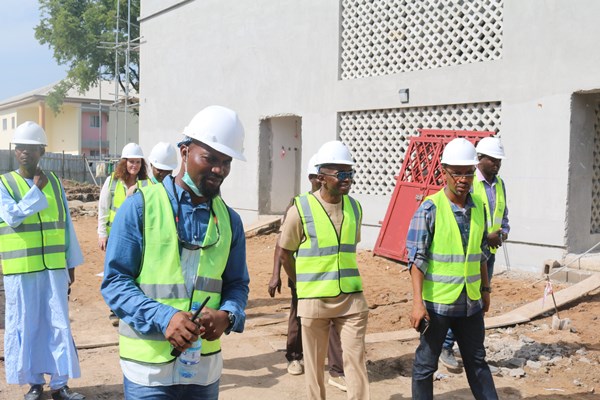 On the tour with the chair of the Capital Projects Committee of the Board were the Executive Director of Projects, Abubakar Bunu; Senior Director of Projects, Ms. Karin Rheeder, and Principal Quantity Surveyor, Inalegwu Ocheche.  The project management consultants, Iheanyi Esiaba and Nnamdi Ebi of Agram, and a resident engineer, Adeleke Ogunbosi of Gilliano & Plus, led the tour.
Agram Architects and Project Managers Nigeria Limited are the contractors handling the project.
The 102-bed female hostel has space for kitchen and laundry.  Mr. Chioke was pleased to see that one of the rooms has features to enable a handicapped student access the facilities and to live comfortably.
Mr. Chioke, an investment banker who is Managing Director & CEO of Afrinvest West Africa, was impressed by the progress of work in the last five months since the project started.  He was hopeful that the building will be completed and ready for occupation in two months' time.  
"In the circumstance, I think they have actually moved very fast.  To be able to pull it to this level within these months is a very impressive achievement."


By Omorogbe Omorogiuwa