President Dekle said at the annual Finance Division retreat on September 16 that AUN is still much at the design phase and staff members have a great role to play in influencing outcomes.
"All of you here have influence as the designers.  Therefore, in this retreat, I want you to think.  What do you really want to design?  The reason for the retreat today is to capture your good ideas.
"I bring this up because I see all of you as designers of AUN and that is a great opportunity.  If I were to take you to the United States and work for a university there, those universities have already been built.  They have already been designed.  There is little you can do to influence things."
President Dekle said seeking other people's perspectives is very important.  She maintained that not everyone sees things the same way.  "You may see something in one way ...We need each other to see the full picture."
Dr. Dekle also told the staff members that the gift of their time is the best they can give to anyone.  She pointed out that AUN is a gift from the Founder to Adamawa and by extension, Nigeria and Africa.  Spending their weekend reflecting on how to improve their work for AUN is a precious gift to the University.  "And our gift back to him is what we do with it.  Part of that gift is your retreat today."
VP Finance Anthony Agbo said the retreat is an opportunity to come together as a group and talk "frankly and openly" about those issues that concern them all.  "We need to have a roundtable where we can discuss those issues, finding solutions to them and finding ways to strengthen our collaborative relationships…  So today, I'm going to be asking that we all keep an open mind, and bring our best ideas into the discussions that we are going to be having today.
Besides looking into the strengths, weaknesses, opportunities, and threats (SWOT) as a division/organization, the participants went further to analyze the concept at individual levels.  Each unit of the division also had a presentation.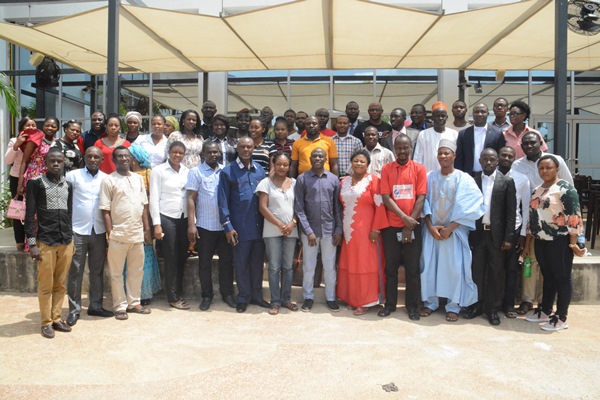 There were outdoor activities such as games and swimming after a long day of brainstorming.
By Omorogbe Omorogiuwa