The Office of Sustainability Initiatives Projects and Events (Yola EcoSentials) under the Atiku Center carried out sales exhibition at the library lobby on September 13.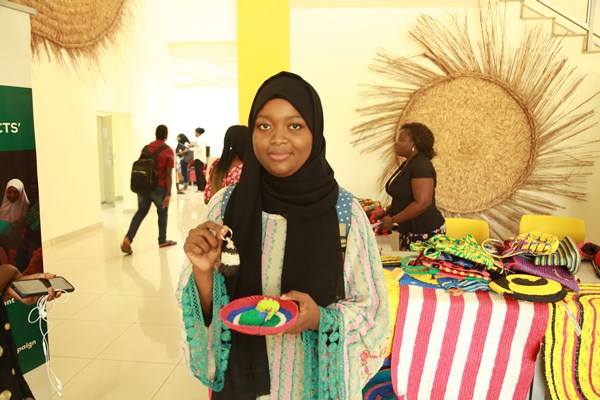 The Waste-to-wealth Project, which began since 2012, has gone beyond Yola--Mubi, Michika, and Maiha--and has attracted different donors including Exxon Mobil.
The interim Manager of the Sustainability Office, Raymond Obindu, said the aim of the sales exhibition was to sensitize people around the community that something meaningful could always be made out of waste.
Mr. Obindu further explained that the exhibition was also meant to have impact on the school and as well get financial support for the women who made the products, especially those who have been with the Office for a while.  "We are exhibiting and making sales for the women who have been with us for over five years now.
At the sales exhibition, various items were displayed with their price tags on them.  The items were produced from raw materials such as fabric, tapes, and nylon, and they include foot, table, and wall mats, key holders, laptop bags, hand bags, purses, water bottles, and containers.  Their prices range from ₦100 to ₦5,000 per item.
A Computer Science major, Abuoma Offia, who bought a fabric foot mat, said it would blend well with other items in his room.  He also commended the program Field Research Manager of the Office, Rotimi Ogundijo, also spoke on the essence of the initiative. "The program is part of the core objectives of the Office of Sustainability in waste recycling… we recycle polythene bags."
Mr. Ogundijo added that it was also a way of showcasing the different programs the women were doing and people could really buy the products.
"It is a good idea to engage in this kind of activity as it will earn wealth and save your environment," said Mr. Iliyasu Simeon, a Conservation Biology (major.  He further suggested that school bags be included among the items produced to increase students' patronage.
Mr. Ogundijo stated that the 'Waste to Wealth' (Yola EcoSentials) Sales & Exhibition program was not only for sales but to also pass messages of environmental consciousness to the AUN Community that what is considered a waste could actually produce beautiful things.  "It will make people environmentally responsible and waste conscious."  He further pointed out that their major customers were the community.  However, they have had exhibitions both at the hotel and outside Yola.
The Manager, who gave a brief history of the initiative, said that it was birthed out of recycling, which is how to manage waste. It was aimed at the three components of sustainability which have to do with economic empowerment, environmental protection and social interaction "What we do is to see how we can turn waste into wealth."  To achieve that, he added, the littered biodegradable nylon bags in the environment had to be recycled into something very useful via the program.
Mr. Obindu added that the community women were engaged in producing the items.  A female Instructor from the U.S. trains about five women who in turn train other women "… From this program, we trained over 1,500 women including the IDPs (Internally Displaced Persons) around Adamawa State."
By Anthonia Udokwu