AUN Safety and Security Operations Department celebrated its sixth anniversary on August 28.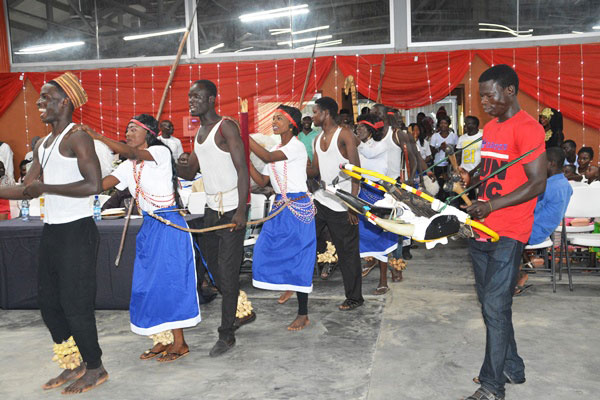 Besides being regular workers, the security officers displayed their softer side via singing, comedy, dancing, fashion parade, crazy dressing, eating, drinking, hefty women, and karate competitions.  Others participated in a traditional wear show, village attire modeling show, traditional wrestling, and macho man competition.  The event took place at the Security complex in the Akin Kekere-Ekun Admin Building.


Security Coordinator, Dr. Lionel von Frederick Rawlins, said the staff members wanted to change the perception that they are only into enforcing laws, policies, and regulations.  They have a fun side too.  "As an old Marine, we say we work hard and play hard.  It's the same concept I want to bring here….We can work seriously and we can have a lot of fun."


The anniversary celebration was first held last year.  "This year we were able to capitalize on our mistakes and made it better.  We will improve on it next year until it becomes so refined.  "Rawlins said the celebration would be held annually, "…so that the people will come to expect it.  I would expect that in five years, it would be so big that people will pay tickets to attend."


Ginsami Dauda, who won the fashion parade, emerged as 'Miss AUN Security' for the year.  She also won two other prizes: wrestling and the running completion.


"To see them outside of their day-to-day operation entertaining the crowd and displaying their different talents was a real treat tonight for me," said Byron Bullock, VP Campus Life and Dean of Students Affairs.  Representing the President on the occasion, Dean Bullock told the security officers that their work has been impressive to all members of the University community.  He said their diligence during the insurgency was noticeable.  "You really saved us from shutting our doors.  That's how important your role is."


The Dean added that the parents of new students who came with their wards to enroll them into the University have often mentioned how impressed they are with the University's security team.  "They can return with a sense of comfort that their children are in safe and secured learning environment."
By Omorogbe Omorogiuwa