The August 5 nationwide examination to compete for AUN's 75 merit scholarships had a huge turnout, according to reports from the 25 centers across the federation.




At the ACIT Yola, which was the Northeast test center, 122 candidates participated in the selection exam. Fifty-three candidates wrote from the North Central and 11 from the North West. A total of 105 candidates were at the various centers across the South Eastern, South Western and South South regions.



Paul Maigari, a graduate of Government Secondary School, Kabusa, Abuja, who came from Bauchi to sit for the exam, said he is interested in AUN for its American style of education.  Although AUN is his second choice in JAMB UTME, getting the scholarship will be the deciding factor.  He looks forward to AUN's very sophisticated learning environment.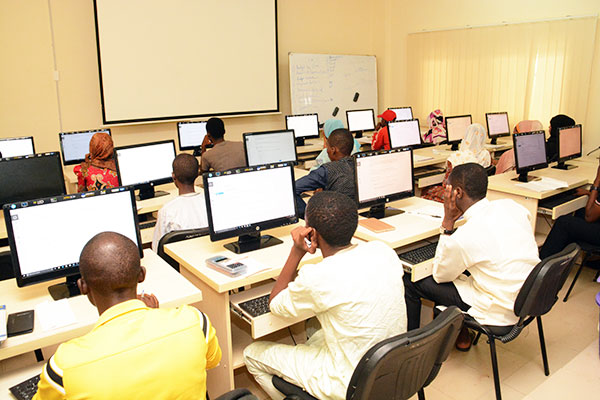 Waisu Hamidu, who came from Government Science Secondary School in Taraba, said the University's Petroleum Chemistry program motivated his applying to AUN.



For Lehya Stephen of Deeper Life High School in Adamawa State, the University's environment for learning is alluring.  When her school came to AUN earlier in the year, she was quick to notice the small class size at the University.  She has also found the University attractive owing to the application of information technology as a learning facility.


Becoming a candidate to sit for scholarship exam is a step she has taken to be able to become an AUN student.



The scholarship is one of the AUN's ways of attracting the brightest students from throughout Nigeria and Africa.  Two scholarship winners will emerge from each of the nation's 36 states and the Federal Capital territory, and one nationwide.  The 75 merit scholarships on offer are for students who are already accepted in the 2017 fall semester.




Since its founding in 2003 by former Nigerian Vice President, HE Atiku Abubakar, AUN has been bringing together the best and brightest candidates from all over Nigeria, South Africa, Cameroon, Ghana, Uganda, Rwanda, Ivory Coast, Niger, Chad, Sierra Leone, and other African countries, to study under one roof.  The University seeks to make its American-style liberal education possible for all qualified applicants, regardless of family income.

Scholarship students are often among the finest of AUN's graduates.

By Omorogbe Omorogiuwa