AUN students' prize-winning projects have appeared on Facebook as case studies on its newly launched "counterspeech" portal, www.counterspeech.fb.com.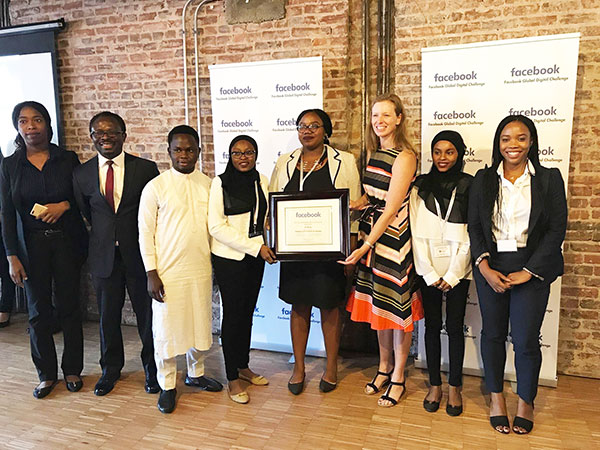 The new website is one of Facebook's contributions to the Global Internet Forum to Counter Terrorism (GIFCT).  It contains resources and tips for activists on how to counter hate speech, violence, and extremism in their local communities.
The two featured campaigns were designed in the course, CMD 412 (Public Diplomacy & Strategic Media Intervention), in Fall 2016 and Spring 2017 semesters.  They were  implemented with funding from the P2P Facebook Global Digital Challenge program.
The first campaign, #IAmABeliever, designed in the Fall 2016 class, focused on bridging the divide between Christians and Muslims in Northern Nigeria by encouraging people to connect over aspects of their lives beyond religious beliefs.
The campaign also included a web application, Beliepedia, that shows Islamic and Christian teachings on challenging questions of human existence such as "What is the meaning of life?" Beliepedia enables Christian and Muslim leaders and clerics to post answers to questions from readers and allows readers to comment and share posts on social media.  
According to Facebook's analytics, the campaign reached over three million people worldwide.  The #IAmABeliever campaign won first place in the all-Africa regional finals of the P2P Challenging Extremism competition.
The second featured campaign, designed in the Spring 2017 class, #IAmABeliever2 by Women Against Violent Extremism(WAVE), mobilized 10,000 women across Nigeria through the WAVE 100 Women initiative to challenge extremism in their local communities, using WhatsApp.  Students in the course also created the hashtag #SchoolGirlsNotSuicideBombers to shine a light on the increasing number of young girls deployed by Boko Haram as suicide bombers in the Lake Chad Basin.
The Counterspeech platform notes that, "AUN's WAVE 100 Women initiative has expanded into a network of safe spaces for women to organize around issues and advocate for their rights." According to Facebook, the WAVE project has reached over 6.2 million people worldwide within five months.
The #IAmABeliever2 campaign won second place out of submissions from 160 universities across 70 countries in the recently concluded international finals of the P2P Facebook Global Digital Challenge held in Washington, DC.
Interim Dean of SAS and faculty adviser on both campaign projects, Dr. Jacob Udo-Udo Jacob, said  AUN should feel enormous pride in being featured on the new global counterspeech platform. "I can't think of a more valid global platform to showcase our mandate as Africa's development university."
"The creativity and innovation deployed in the design and implementation of these campaigns are world-class.  Even more profound is the impact these campaigns have had on targeted audiences," Dr. Jacob added.  
The Facebook counter speech portal is part of the social media giant's response to increasing international pressure on tech giants to do more to challenge violent extremism online.
The UN's Counter Terrorism Executive Directorate  (CTED), Facebook, Microsoft, Twitter, and YouTube are jointly supporting  the GIFCT as part of a wider "Tech Against Terrorism" project pursuant to the UN Security Council Resolution 2354 (2017) and the UN Counter-Terrorism Committee Comprehensive International Framework to Counter Terrorist Narratives (S/2017/375).  Part of the mission of the project is to provide resources and guidance, encourage peer learning, and develop links between tech organizations and academia to challenge violent extremism.  
By Zamiyat Abubakar