The School of Graduate Studies has welcomed another set of graduate students for the executive masters program.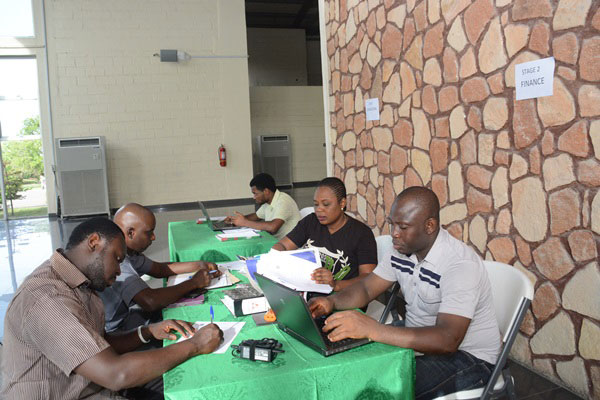 At the May 21 orientation for the new graduate students, interim Dean Dr. Charles Nche, reminded them that their enrollment in the program was a big sacrifice of their time, effort, and money.
Dr. Nche said they should recognize that they are doing the program because they want to improve themselves.  He said the executive masters program is structured to be a terminal masters where the knowledge that they acquire can be applied directly in their workplace.
"We will give you assignments even during your holidays," Dr. Nche warned the students.  He also clarified what distinguishes the program from the regular graduate program, and counseled them to start their project work early since it is usually the most challenging part of the program.
Before enrolling in the program, Kabla H. Bulama, a Senior Program Analyst with the National Orientation Agency, had seen AUN from the eyes of his sister who graduated from the CMD program.  Mr. Kabla, who earned his first degree in Computer Science from Abubakar Tafawa Balewa University, Bauchi, and has enrolled in the Master of Information and Communication Science (MICS) program, learned that AUN's use of electronic systems is very intensive and said he will have an edge over his mates at work when he returns to his workplace.
A private businessman from Adamawa State, Musa Bamanga, who earned his undergraduate degree from Modibbo Adama University of Technology, also enrolled for the MICS program.  He said the quality of education that AUN offers and the proximity of the campus to his home are his motivation for enrolling in the program.
A lecturer from Taraba State University, Jalingo, Al-Amin Suleiman Tafida, is another enrollee.  An alum of the International Visitors Leadership Program (IVLP), Mr. Tafida said the opportunity has enabled him to visit the United States.  Having visited his friends working with AUN before, he has since recognized that it has facilities which compare to those he saw while on an exchange program in the United States.
Electrical Technician Theman I. Jirnadu, who has his HND from Federal Polytechnic, Mubi, in 2012, said he finds enrolling in the program an opportunity.  A staff member of the Facilities Management department since 2015,  he said he has decided to seize the opportunity to improve himself.
The students are expected to spend two summers of six weeks each on campus, during the two-year duration of the program.
By Omorogbe Omorogiuwa