On March 10, the Instructor of Study Skills, Ms. Elizabeth Sclama, tutored a group of students on how best to prepare for their upcoming midterm exams.  
Writing exams can inspire a fair amount of fear; students struggle enough with assignments when they aren't timed events based on unknown questions.
The goal of the lecture was to give students some easy and effective strategies that will help them take control of the situation and do their best.  During the lecture, each student was given a worksheet as a useful study guide in sorting through a large body of information in order to figure out what is important, and explain why it is important.
"You can't study if you do not know what to study, how to study, and when to study," said Ms. Sclama.
The students also participated in a little drill which involved choosing from four different study strategies by learning styles listed in the worksheet:  Reading or Rereading strategies, Visual Strategies, Verbal and listening Strategies, and Writing and Moving Strategies.  
She told them it was important to pick the Study Strategies that will help them assimilate and remember information quicker so as to come up with key course ideas, put them in their own words, and to use them as interpretive or analytical skills.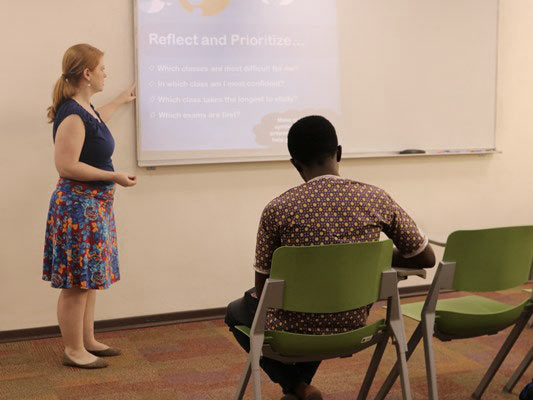 Ms. Sclama told the students that exam questions can reach pretty far into the course materials, so they  cannot hope to do well on such exams  if they do not keep up with the readings and assignments from the beginning of the course. She advised them against cramming and late-night rush reading; it is better to prepare early and get plenty of rest.
"You are more likely to do better work if you take precious little breaks," the Instructor said.


By Chisom Madu