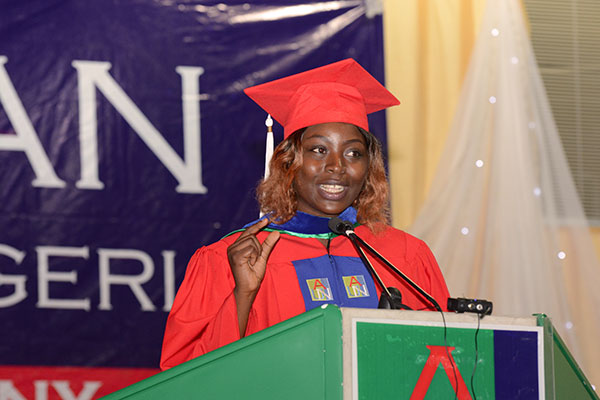 Speech by Ms. Murma Mamman, Class of 2017 Speaker, 9th Commencement Ceremony on May 13, 2017
We Stand Tall to Conquer the World


Class of 2017, we are the definition of difference! You know why? Let me tell you; we are the first truly entrepreneurial set in AUN, we are the incubation of H.E. Atiku Abubakar, we are the future Dangotes of Nigeria, the class that will receive other graduate's CV's, the outstanding class that wears the epitome of greatness; Class of 2017, we are the Folorunsho Alakijas, the Adenuga's and the Bill gates of today. Not of today's tomorrow, but of Tomorrow's today!
Good day, to the AUN community and to all our invited guests.
On the 16th of January 2013 at 6:45pm, my dad and I stepped into the AUN premises. I was scared and skeptical like every other teenage girl leaving home for the first time stepping into the unknown. I had entertained signs of discouragement because of this quantum leap to begin the journey of my future. The discouragement disappeared after I met the likes of Maryam Lawan, Abdulrahman Bappullo, Kingsley Jima, and Abdulmuminu Modu.
I stand before you all with an overwhelming joy in my heart, having been privileged to conquer the last four years of my life here on this campus and I say this with great pride and no APOLOGIES. It has been a wonderful journey and a glorious achievement. Class of 2017, bigger dreams await us.
I would be undermining the efforts of this university if I do not emphasize its enormous contributions towards molding, building, and developing our innermost abilities to produce courageous leaders. Four years ago, I came from another private university. It was a good place, no doubt, but AUN has proven, as the French would say TO BE THE CRÈME DE LA CRÈME OF NIGERIAN, AND INDEED, MOST AFRICAN UNIVERISITES.
Throughout my stay at AUN, determination, resilience, and courage were born. It was never my dream to study accounting. However, during my freshman year, AUN enabled me to make the decision easily through enrollment in a wide range of courses. I was able to understand, appreciate and utilize my strengths and weaknesses to make a career decision in accounting.  Today my Aun story would not be complete without the likes of Dr. Margee Ensign who introduced us to the world of OPPORTUNITIES, Dean Bullock's amazing personality with his ever EXHIBITED presence, Dr. Hassan Yusuf's passion for his job and his strategic management classes, Dr. Obioma Uche who made me see mathematics from a new perspective, Prof. Emmanuel Ukpe who spurred my curiosity in ICT, and of course Prof. Sam Akanno, and all of those other faculty, staff and peers who have served to inspire me along the way facilitated my standing here before you today. My biography won't be complete without my parents Mr. & Mrs. Iliya Mamman who homeschooled me and are the brain and propellers behind my success. My siblings who motivated, prayed and believed in my dreams, Kyauta, Godiya, Abijah, Naomi, and his excellency, Idris Mamman, the new AUN SGA president. To my friends who have proved to be sisters Maryam Lawan, Zuibaidah Saad, Fatimah Elhussien, Sky Kim you pushed me to greatness, lastly to my best friend Julius Haruna, thank you for always telling me the truth and believing I can and will always make it.
With these experiences, I would have shortchanged my siblings if I did not convince them all to enroll at AUN.  In the presence of students, staff and faculty from 37 countries, I would also not be doing AUN justice if I do not use this testimony as EVIDENCE for others to know that, I discovered something truly beautiful in Adamawa State, known as the Land of Beauty.
Let me share one of my numerous experiences with you.  I had the incredible OPPORTUNITY to represent AUN in the Global Scholars Program in the United States. My time at the Ohio Wesleyan University made me realize that the underlying reason for success at AUN was community service. This knowledge increased my passion to get involved in the community programs to influence the life of the young and vulnerable youths who can be future global scholars. In the words of Wole Soyinka "Human life has meaning only to that degree and as long as it is lived in the service of humanity"
AUN has given us wings to fly and soar to greater heights than the human eye can see. My fellow colleagues would agree with me that 4 years ago we came to AUN as tender eggs but today we leave as soaring eagles. The young, immature freshmen that our parents dropped off are a far-- cry from the strong and independent agents of economic, and developmental change that sit here today.
We-- are the AUN's story, a masterpiece of Africa's first Development University and what awaits us has no limits. According to Mahatma Gandi "we need to be the CHANGE we wish to see in the world.  And so, Class of 2017, stand tall as you conquer the world.  Congratulations.