Through STELLAR, AUN has launched a partnership with the Adamawa State Ministry of Education, the State Universal Basic Education Commission, and Jolly Learning, Ltd., an educational publishing company in the U.K., to pilot a project implementing the Jolly Phonics early literacy curriculum in six primary schools in Yola during the 2013-2014 school year.  Jolly Phonics is an instructional program that teaches children to read by teaching them to recognize and decode the sounds of each letter and blend the sounds into words.  It is also multi-sensory and highly engaging, using stories, songs, and movements to reinforce learning.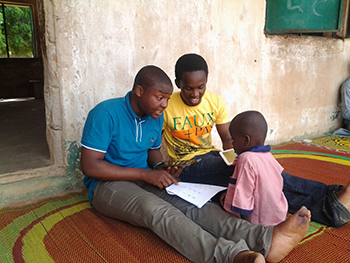 More information about the program may be found at the Jolly Learning website: http://jollylearning.co.uk/overview-about-jolly-phonics/.


For the pilot project in Yola, Jolly Learning provided the teacher training, classroom materials, teacher guides, and pupil textbooks, while AUN hosted the teacher training session and is facilitating the logistics and monitoring and evaluation.


In early September, the head teachers and Primary 1 teachers from six primary schools in Yola attended a three-day workshop at AUN to learn how to use the Jolly Phonics method and materials in their classrooms.  The teachers returned for a refresher workshop in October.


In late September and early October, AUN students enrolled in CDV 101 administered the Early Grade Reading Assessment (EGRA) to nearly 300 Primary 1 pupils in the six pilot schools plus three comparison ("control") schools.  This was to establish a baseline of where the pupils' literacy skills were at the beginning of the program.  


AUN students will administer a post-test to the same pupils in the spring of 2014.  Then we will be able to compare the literacy skill acquisition of the pupils who received the Jolly Phonics instruction during the year versus those who received traditional literacy instruction.  STELLAR will submit its final report to the local education authorities at the end of the pilot project.  At their discretion, if the pilot proves successful, the Jolly Phonics program could be extended to all Primary 1 classes across the state.