Faculty & Staff
Associate Professor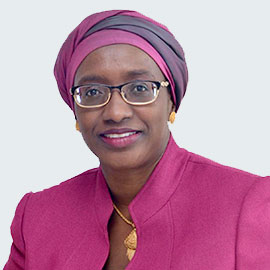 Ph.D, Rutgers, The State University of New Jersey, USA
Dr. Jainaba M.L. Kah returned to AUN in September, 2017 as an Associate Professor, where she had won the Outstanding Faculty Award in SBE in November 2008. She was Associate Vice Rector for Faculty Affairs and most recently the Associate Vice Rector for Strategy Development & Associate Professor of Management and Public Policy at Azerbaijan Diplomatic Academy (ADA) University. Dr. Kah spent six (6) years as the Director General of the Management Development Institute (MDI) in The Gambia and was also the Acting Dean of the School of Business and Public Administration at UTG. She was an Assistant Professor of Public Policy and Administration and Director/Coordinator of the International Public Service and Development Track (IPSD) at Rutgers, The State University of New Jersey, USA. Dr. Kah also taught at the American University of Sharjah (United Arab Emirates) whiles on academic leave from Rutgers. She has extensive practitioner experience working for the World Bank as an Urban/Transport Specialist and also served as a consultant for the USA Federal Transit Administration; Financial Analyst for Amnesty International; and Audit Senior at KPMG, Peat Marwick Mitchell. Dr. Kah was conferred a National Merit Award – Insignia: Member of The Republic of The Gambia (MRG) in 2014 in recognition of her contribution to higher education.
ENT 101 - Entrepreneurship & Development
MGT 201 - Principles of Management
MGT 360 -  Business Ethics and Corporate Social Responsibility
MGT 301 - Organizational Behavior
MGT 302 - Managing Human Resources
ECO 340 - Development Economics
ECO 350 - International Economics and Trade
Human resources management;  public administration from a cross-national comparative perspective; ICTs and development.;  microfinanace; leadership in higher education; new public management reforms; and gender and diversity.
International Federation for Information Processing (IFIP)
"Capacity Building: A Stakeholder-University Partnership Framework for The Gambia" (Co-authored).  (March 2011): Journal of African Administrative Studies, issue N°74, pp. 1-24.;
"Micro-Credit, Social Capital and Politics: The Case of a Small Rural Town - Gossas, Senegal"- (Co-authored).  (Summer 2005): Journal of Microfinance, Vol. 7, No. 1, pp. 122-152;  Kah, Jainaba; (Kah, Muhammadou);
"ICT and Socio-Economic Development: A University's Engagement in a Rural Community in Yola, Nigeria." SOCIAL DIMENSIONS OF INFORMATION AND COMMUNICATION TECHNOLOGY POLICY. (Edited by Chrisanthi Avgerou, Matthew I. Smith & Peter van den Besselaar), Boston: Springer, 2008, pp. 223-239;  Kah, Jainaba; (Kah, Muhammadou);
"Saint Mary's University Extension Program in The Gambia: Stakeholder Expectations and Outcomes". PARTNERS FOR PROGRESS: A CANADA-AFRICA VENTURE IN UNIVERSITY BUILDING, (Edited by Michael J. Larsen & James Morrison) Black Point, Canada: Fernwood Publishing Co. Ltd.  (March, 2006), pp. 106-130; Kah, Jainaba (Kah, Muhammadou);
"Education and Development: The Impact of SMUEP and the Potential of The University of The Gambia in a Globalizing World." PARTNERS FOR PROGRESS: A CANADA-AFRICA VENTURE IN UNIVERSITY BUILDING, edited by Michael J. Larsen & James H. Morrison. Black Point, Canada: Fernwood Publishing Co. Ltd.  (March 2006), pp.145-155; Kah, Jainaba; (Avison, David; Kah, Muhammadou; Soriyan, Abimbola);
"Diverse Cultures." RESEARCH IN INFORMATION SYSTEMS: A HANDBOOK FOR RESEARCH SUPERVISORS AND THEIR STUDENTS. (Edited by David Avison & Jan Pries-Heje), Oxford (UK): Elsevier, 2005, pp. 171-182.