University Administration
The Chief Executive Officer of AUN is the President, who is in charge of the day-to-day management of the University.


The President is assisted by the Provost (Academics) and four Vice Presidents - Campus Life & Dean, Student Affairs, Administration, Finance and University Relations
Each of the of the University's Schools is led by a dean. Two other Deans lead the School of Graduate Programs and Instructions

.

Other officers of the University include: Seven Assistant Vice-Presidents, Three Executive Directors, University Librarian, Registrar and Directors.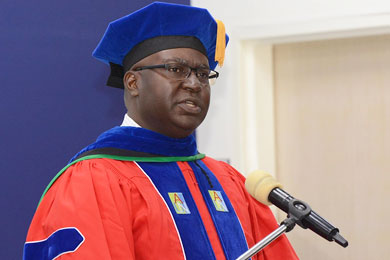 Prof. Muhammadou M.O. Kah
VP Academic Affairs/Provost
Dean, School of Information Technology & Computing
Dr. Carlos G. Wong-Martinez
University Librarian
Dean, School of Business & Entrepreneurship
Dean, School of Law
Dean of Instruction
Interim Dean, School of Arts & Sciences
VP, Campus Life & Dean, Student Affairs
VP, University Relations
Olanipekun Olanrewaju (FCA)
VP, Finance & Administration
AVP, Safety & Security Operations